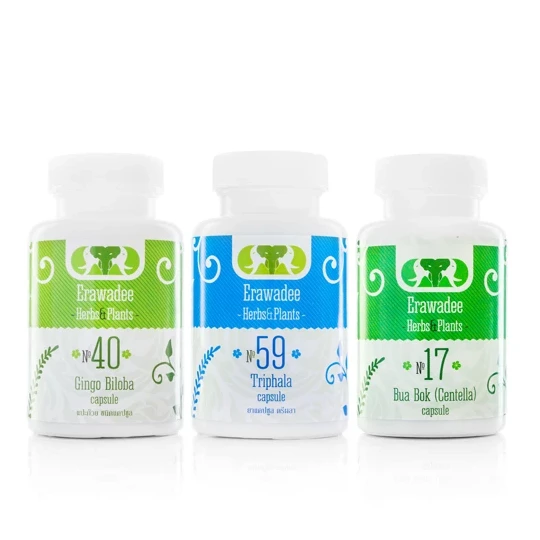 Healing Set No.8 Eyesight and Brain Memory Improvement
340g.

No.40 Gingko Biloba and No.59 Tripfala improve microcirculation in the vessels of the brain and in the parenchymal organs, reduce the risk of thrombus formation in the brain and coronary arteries, improve the nutrition of the retina of the eye. It improves memory, brain activity, cognitive abilities, reduces the degree of encephalopathy. Combination with the reception of No.17 Bua Bok enhances the effect of the drugs, improves concentration and has a mild soothing effect.
Specifications
1 pack - No.40 Gingko Biloba
1 pack - No.59 Tripfala
1 pack - No.17 Bua Bok
Indications
High intellectual strain
Bad memory, mental performance, concentration (cognitive impairment)
Visual defects such as myopia, hyperopia, retina malnutrition
Increased emotional excitability
Directions for use
No.40 Gingko Biloba - 3 capsules in the morning after eating
No.17 Bua Bok - 3 capsules in the evening after meals from the first day of the course
No59 Tripfala - 2 capsules 2 times a day after meals after the completion of the course No.40 Gingko Biloba and No.17 Bua Bok
Course duration
8 weeks
Contraindications
Pregnancy, lactation
---
---
Feedback and questions:
Прошли головные боли. В целом,кажется, стала активнее. Насчет зрения не скажу, т.к. на него не жалуюсь. Небольшой успокоительный эффект. Планирую взять снова
взяла по совету друзей, очень хороший комплекс
Валерия Ибатуллина

Брала мужу комплекс. Пропил, улучшения были. Из-за сильной нагрузки на работе лёгкое ухудшение зрения (из-за монитора) было и усталость. Отзыв пишу по его описанию ощущений. Сказал, что улучшилось зрение и сил хватало до конца дня. Работает начальником среднего звена на газовом промысле в условиях севера, нагрузка большая.
После применения комплекса зрение стало гораздо лучше, очки теперь почти не использую! Хотя врачи говорили, что проблема возрастная и лечению не поддается
Anonymous

Покупали, когда были в Тайланде. Пил не курсом, а по отдельности. Эффект есть от каждой баночки свой. Пью №59 от головной боли при переутомлении, очень хорошо помогает.
Аидар

Купил в Тайланде данный комплекс. Мне он помог, зрение улучшилось, глаза стали уставать меньше, добавилась четкость. В Таиланде данный комплекс обошелся мне дороже, за полную стоимость. В следующей раз буду заказывать на сайте, Тем более, что на сайте дешевле. Раньше пил витамины для глаз (не Эравади) купленные в Российских аптеках. Эффект был минимальный и кратковременный.
If you have any questions please contact us: