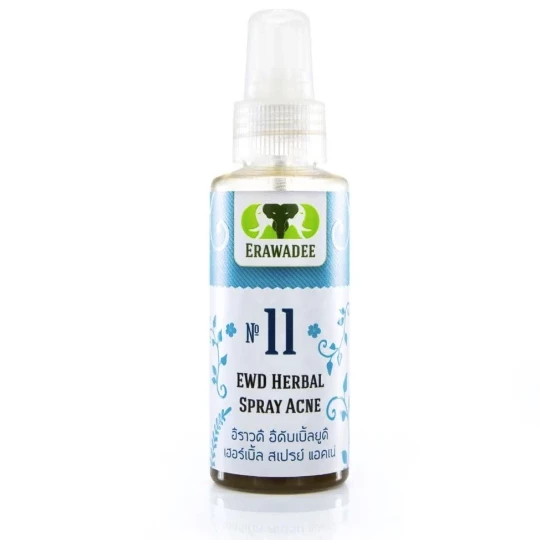 No.11 Black Spray 20 ml
50g.


Used to treat majority of skin problems. Eliminates irritation, inflammation and itching. Destroys harmful bacteria and viruses, including herpes. Does not contain hormones, artificial dyes and fragrances.
Indications
Infectious, inflammatory skin lesions.
Acne, Comedos.
As a comprehensive therapy: Mild Acne treatment success achieved with Black Spray only. For the treatment of moderate and severe acne drug is used in combination with specific medications (N4 Ya Nam Ma Krud,) as well as (N36 Kwao Krue Khao) for women, or (N44 Kwao Krue Dang for men).
Herpes (simple herpes type 1, simple herpes type 2, cytomegalovirus).
As a comprehensive therapy: should be used at an early stage, during the appearance of the first symptoms (itching and redness) together with the ( N14 Far Talay Jone). In this case, the disease can often be stopped prior to development of the bubble-up phase.
Directions for use
Shake before use. The spray is applied to the affected area by single or double clicking. The drug can be used either on the entire face, and point to the inflammated areas. Do not rub! Before use, clean the face (without the use of alcohol lotions and soaps). It is better to use washing gel. Apply 2 - 6 times a day. Optimal treatment course of Acne - 3 months. The therapeutic effect is maximized throughout the month of application.
Storage
The drug should be stored away from direct sunlight, at a temperature from 15 to 30 degrees Celsius.
---
---
Feedback and questions:
Anonymous

Спрей имеет запах трав. Коричневый цвет. Подсушивает кожу. На второй день использования высыпания заметно уменьшились. Расход очень маленький, хватит на долгое время. Рекомендую.
Подсушивает прыщь, использую точечно, помогает!

Взяла спрей ради интереса, но превзошел все ожидания👍 спрей коричневого цвета, приятный как будто чайный аромат. Не пересушивает кожу. Однозначно буду брать еще.
Наталия Некрасова

Супер средство от воспалений
Sinta

good product, will repurchase
Бери ребенку от акне, после умывания, брызгаем на ватный диск и протираем, очень хорошо убирает воспаленные прыщи
Anonymous

Спрей хорошо помогает от высыпаний на коже, единственное от него остаётся темный оттенок на коже, и у самого спрея запах на любителя
Пробывала это средство как только заподозрила появление герпеса на губах, тут же зуд прошёл и ничего не появилось. А коллега на работе применяла уже в период когда болячка образовалась. Средство помогло не раздуть губы в несколько раз
If you have any questions please contact us: