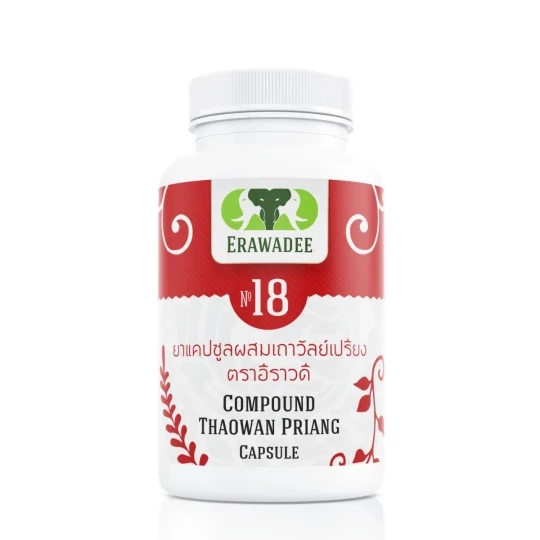 No.18 Thao Wan Peing Joint Treatment
113g.


Possesses the strongest anesthetic and anti-inflammatory effect. Eliminates spasms and painful effects in muscles. Accelerates the period of recovering from injuries. Intensifies blood circulation. Normalizes the jumping arterial blood pressure. Strengthens walls of vessels, normalizes their permeability and elasticity.
Specifications
250 mg, 100 capsules
Indications
Arthrosis, coxarthrosis. Arthritises (including rheumatoid arthritis).
Muscular spasms, spasms.
Miozit (inflammation of muscles).
Violation of peripheral blood circulation and microcirculation (numbness, cold, extremity pain, etc.)
The alternating lameness.
Differences the jumping arterial blood pressure
Bekhterev's disease. Multiple sclerosis.
Contraindications
Pregnancy, lactation.
Directions for use
Adults: Orally 2 capsules 3 times a day after meals, wash down with 200 ml. of water; during 4-8 weeks.
Storage
The medicine should be protected from direct sunlight and stored at temperature between 15 and 30 degrees Celsius.
Key ingredients
Jewel Vine (Derris Scandens)
---
---
Feedback and questions:
Впервые купила препарат в Тайланде. Пропила курс. Уменьшились боли в суставах и хруст. Заказала еще через аптеку.
Екатерина Фролова

Отличное средство при болях в мышцах! Спортсменам не заменим при болях, травмах!
Пропила курс,незначительно исчезли боли в суставах
Покупала родителям, просят заказать ещё.
Первый раз купила капсулы, когда была в Таиланде. Купила их маме. Она пьёт их постоянно. Говорит что с ними ей значительно легче: уменьшаются боли, легче ходить . Маме 82 года. Передаю вам её признательность и благодарность ❤️🙏

Хорошо помогает
наталья данильченко

Пропила 2 курса, почувствовала облегчение в суставах
хорошее средство, хруст в коленях исчез
Elly Delima

Cocok dan Sudah beli berulang kali..
Lexicon Shilov

Отличное средство, хруст в суставах намного уменьшился
Олег Гречишкин

Все сложилось и жена вернулась, нашёл работу, завязал с курением и алкоголем, спасибо аптеке.
Катерина

также принимала для снижения артериального давления.
If you have any questions please contact us: