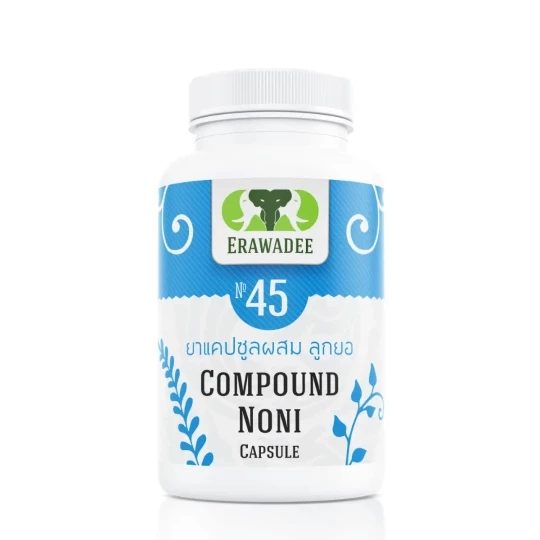 No.45 Noni (Immunomodulatory Medicine)
113g.


Tonic and restorative remedy. Increases motor activity, mental and physical performance, reduces fatigue and drowsiness. Restores immune system and raises protective forces of an organism, prevents the development of malignant tumors.
Specifications
250 mg, 100 capsules
Contraindications
Pregnancy, lactation
Directions for use
Orally for adults – 3 capsules in the morning, wash down with water; during 4-8 weeks. For children from 5 to 12 years old – 1-2 per day in the morning
Storage
The medicine should be protected from direct sunlight and stored at temperature between 15 and 30 degrees Celsius.
Key ingredients
Morinda citrifolia
---
Articles:
---
---
Feedback and questions:
Эффективен именно для иммунитета.
Мельчукова Галия Аньязовна
Очень хорошее средство
Брала ребёнку. Пока мили - стала реже болеть. Может стоит действительно курсом пить чтобы результат был продолжительным.
Пью препарат не первый раз, довольна его действием.
Marina Vinogradova

Во время пандемии пропивала,не знаю от или так щвезды сложились,но переболела легко,без признаков болезни.ТТТ. если бы у мужа не подтвердилось бы,мы бы с ним не заметили бы, осенью в аптечке надо иметь,и не только
наталья данильченко

От вируса моллюск дочери помог избавится
Рабочее средство, я начала принимать его в весенний период, обычно я простыла в этот период, а принимая Noni, я не простыла , прошла эта утренняя сонливость и вялость, жизнь забила ключом, заиграла яркими красками!) Рекомендую!
отличное средство, рекомендуем для людей пожилого возраста особенно
Гапонов Владимир

Периодически применяю сам, внучка часто стала болеть простудными заболеваниями, после курса нони эффект на глазах
Lexicon Shilov

Для иммунитета в зимний период самое оно
If you have any questions please contact us: