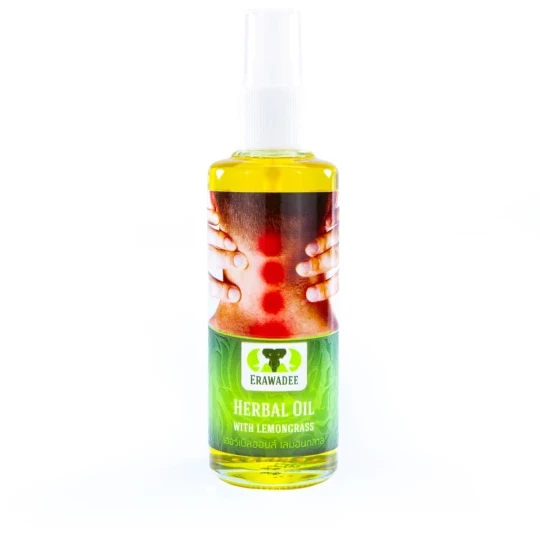 No.60 Herbal Oil with Lemongrass
250g.


A unique healing spray, made according to ancient Thai recipes, consisting of many natural ingredients. The complex manufacturing procedure and the long process of fermentation of the components of this herbal spray for a long time did not allow the production of this remedy in large volumes, allowing it to be made available to the masses. It has the strongest analgesic effect, relieves pain in 10-15 minutes. The most effective remedy for the treatment of sciatica. It dilates blood vessels at the site of application, resulting in a feeling of pleasant warmth in the painful area, elimination of muscle spasm and increased metabolism. The active ingredients in the composition allow you to penetrate into the deeper layers of the skin, acting on the nerve endings, which leads to rapid pain relief.
Specifications
85 ml
Lemongrass Oil
Lemongrass oil has a fresh lemon aroma and citrus flavor. It is a common ingredient in Thai cuisine and an insect repellent. Lemongrass essential oil is used in aromatherapy to freshen the air, relieve stress and uplift the mood. Lemongrass is also used as a folk remedy to improve sleep, relieve pain, and boost immunity.
This spray is good to use for problems and injuries after hard training, a spray with the addition of lemongrass oil will not only relieve pain, but will allow the nervous system to rest from heavy loads and recover faster
Indications
Radiculitis, lumbalgia (lower back pain), Myositis (inflammation of one or more of the skeletal muscles)Intercostal neuralgia, inflammation of the sciatic nerve, inflammation of the mucous bags in the joint (bursitis), muscle tendon Inflammation (tenosynovitis), plantar fasciitis, inflammatory and degenerative diseases of the musculoskeletal system - sciatica, arthritis, arthralgia.
In sports - as warming up agent, elbow and knee joints, stretches, and for faster muscle and tendon recovery.
Contraindications
Do not use on damaged, irritated or inflammated skin.
Directions of use
1-2 whiffs of spray to the affected area, rub gently, for better effect cover with a clean cloth or plaster
Caution
Avoid contact with the eyes, nose or mouth - it can cause harmless but unpleasant burning sensation. To remove from skin, use vegetable oil or nourishing cream, from the eyes – use clean vaseline.
Key ingredients
Panax pseudoginseng, Curcuma aromatica, Lemongrass Oil
---
---
Feedback and questions:
Лучшее средство для моментального обезболивания защемлений различного вида, ломоты в суставах и подобных болей.
Сергей Хаустов

Очень эффективное средство. Использую довольно таки часто. Сам спортсмен (ушибы, растяжения). Рекомендую!
Спрей снял боль с колени уже через 3 минуты
Anonymous

Супер!!!
If you have any questions please contact us: