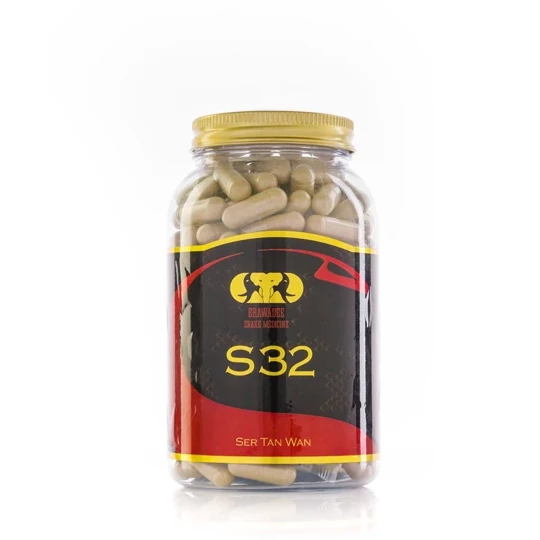 S32 Liver Treatment and Immune System Improvement Ser Tan Wan 240 pills
280g.

Biostimulator of the immune system, antioxidant. It restores liver cells and activates their work. Accelerates the removal of toxins from the body. Clears the bile ducts, supports the normal functioning of the liver and gallbladder. Eliminates the liver parasites.
Specifications
500mg, 240 capsules
Indications
Frequent catarrhal diseases, decreased immunity
Weakening of immune mechanisms due to stress, age or poor ecology. Slackness, decreased efficiency
Prophylaxis and treatment of cancer (oncological diseases)
Recovery period, radiation or chemotherapy
Liver diseases. Consequences of excessive use of alcohol, medicines. Acute and chronic hepatitis
Obesity of the liver (fatty liver disease)
Cirrhosis of the liver
Decreased visual acuity and hearing loss
Parasites
Contraindications
Pregnancy, lactation
Directions for use
Adults 2-3 capsules 2-3 times daily before meals for 4 weeks or longer until symptoms improve and stop, with warm boiled water. Limit the use of alcoholic beverages during medication. Children 1-5 years 40 mg / kg / day, 5-12 years 60 mg / kg / day
---
---
Feedback and questions:
Приобрёл 2 банки по 240 капсул на курс 3 месяца. Пропил 3 недели, печень уменьшилась. Очень дорого конечно.
Оценили действие средства, печень сказала "Спасибо"!
If you have any questions please contact us: