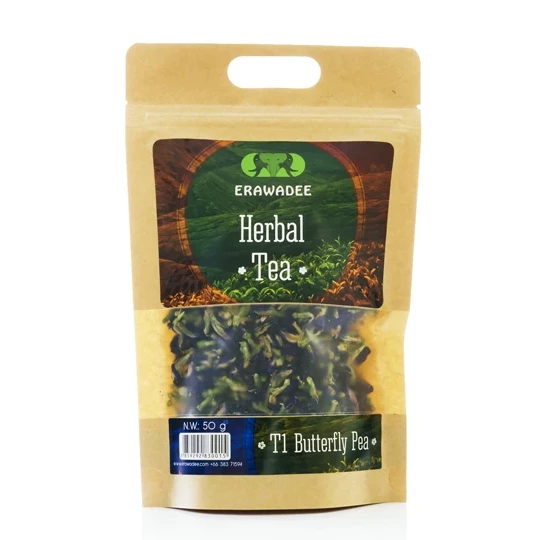 T1 Butterfly Pea Herbal Tea
65g.


Prevents hair loss, promotes faster hair growth, improves flow of blood to hair bulbs and prevents the appearance of grey hair. Improves vision, provides better clearness. Butterfly Pea Tea is also good photo-protector, it removes the fatigue of eyes, cleans blood vessels and are moistens eyes.
Specifications
50g
Directions for use
5 flowers fill in with 250ml. of hot water (80-90 °C) and within 10-15 minutes the drink will be ready.
Storage
Store drink at the room temperature no more than 2 days. Dry petals are recommended to be stored far from direct sunshine, at a temperature from 15 to 30 degrees Celsius.
Key ingredients
Anchan, Clitoria ternatea
---
---
Feedback and questions:
Нам очень нравится этот чай, очень необычного синего цвета. Довольны покупкой!
Интересный чай, когда заваривается синего цвета. Без определенного вкуса и запаха. Про заявленный эффект говорить рано, работает или нет пока не понятно. Может у меня одной такое чувство, но после выпитого чая, возникло странное ощущение какого-то незначительного жжения внутри будто съела чего-то острого. Понаблюдаю дальше
Дмитрий

Очень интересный чай. В первую очередь конечно же цвет. Если заваривать несколько цветков, то будет ярко-синий цвет. Если же заварить больше цветков, и подержать - получится прям такой синий чернильный цвет. Можно добавить лимон или лайм, и тогда цвет изменится на ярко-розовый!!! Вкус и запах отсутствуют, можно добавить мед для вкуса. Если хотите удивить друзей, этот чай очень подходит. Будем брать еще
Luchian Vadim

Чудесный чай!
Юлия

Обалденный успокаивающий чай!!!
If you have any questions please contact us: